Arnica montana - Mägi arnika
Arnica montana L. - Mägi arnika
Description : L'Arnica des montagnes, ou Arnica (Arnica montana L., 1753), est une espèce de plantes herbacées vivace rhizomateuse du genre Arnica et de la famille des Asteraceae. Cette plante européenne principalement montagnarde est typique des sols acides et pauvres en éléments nutritifs. Cette plante est très connue pour ses vertus médicinales, depuis le Moyen-âge.
Principal caractère de reconnaissance : ses feuilles opposées. C'est une plante vivace, d'une hauteur de 20 à 30 cm. En France, elle pousse dans les pâturages des montages, sur des terres siliceuses. Elle supporte des feuilles duveteuses, ovoïdes et tannées. Leurs capitules, de 5 ou 6 cm de large, sont jaune orangé. La base de la fleur est une rosette. Son fruit, comme la graine, est surmonté d'un pappus, doté de soies brunes ou blanches. L'arnica dégage un léger parfum suave. La cueillette se fait au début de la floraison, soit de mai à août selon les étages de végétation. Début juillet dans les Hautes-Vosges, un lieu de prédilection pour l'arnica montana. La dessiccation intervient rapidement.

Quelques caractéristiques :
Dimensions :

Taille plante
20-50cm
Diamètre capitule
50-80 mm
Type végétatif : vivace
Floraison : de Mai à août
Altitudes : 600 à 2800 mètres
Autres noms vernaculaires : Tabac des Vosges
L'Arnica vivace aime les sols acides pauvres en calcaire des forêts de conifères peu denses, des sols marécageux et des landes ainsi que les prairies de montagne non fertilisées, à 600 – 2700 mètres d'altitude.
En Europe, elle est répandue dans une zone allant de la Scandinavie au nord du Portugal et de l'Espagne, à l'est de l'Espagne, au nord de l'Italie et à la région des Balkans. Vers l'est, elle s'étend jusqu'au sud de la Russie et à l'Asie centrale.
Plus au sud, on ne la trouve qu'en altitude.
Il est rare de trouver aujourd'hui de grandes zones d'Arnica sauvage en raison de la cueillette intensive et de la fertilisation excessive ; la plante a d'ailleurs été ajoutée à la liste des plantes menacées et est couverte par la convention de Washington sur la protection des espèces (1981).
Près de chez nous, à Palsi Ökotalu, une petite "colonie" d'Arnica Montana fait notre bonheur tous les ans. Vous faisons en sorte qu'elle prospère. C'est une fleur qui n'accepte pas la transplantation. Ses populations, fortement malmenées par l'agriculture intensive, deviennent de plus en plus rares. Cette situation lui vaut d'ailleurs d'être nommée dans de nombreux textes de loi la protégeant et particulièrement dans la Directive habitats européenne.
L'arnica intervient traditionnellement en phytothérapie, pour traiter les affections inflammatoires locales, d'origines traumatique ou infectieuse. Riche en principes anti-inflammatoires et antalgiques, elle est utilisée par l'industrie pharmaceutique pour la fabrication de pommades et d'onguents. Elle est couramment prescrite en traumatologie et en médecine du sport. Elle est utilisée en pommade pour soigner les bleus et contusions ainsi qu'en homéopathie pour le traitement des douleurs musculaires. Attention, à forte dose, elle est toxique.Il est attesté que les animaux en pâture – exception faite des chèvres – ne supportent pas cette plante qui a déjà provoqué de nombreuses intoxications.
Composition de l'arnica
Parties utilisées
La fleur (le capitule entier) est prioritairement utilisée en phytothérapie. Cependant, toutes les structures de la plante (feuilles, tiges, racines et graines) peuvent être exploitées, selon le type de préparation.
Principes actifs
Ce sont les nombreuses molécules synthétisées par l'arnica qui confèrent à cette plante un usage si précieux en médecine. Parmi les principaux principes actifs, on peut citer les flavonoïdes, le thymol, l'arnicine, les coumarines et les caroténoïdes.
Utilisation et posologie de l'arnica
Dosage
L'arnica s'utilisera principalement en usage externe, sous les formes de pommades, d'onguents, de teintures ou d'huile de massage. Le seul usage par voie interne concerne les préparations en homéopathie, réalisées par l'industrie pharmaceutique ou en officine.
Traitement des lésions traumatiques et/ou inflammatoires ( rhumatismes, piqûres d'insectes, dermatoses, phlébites peu profondes, etc.), selon les préparations.
Précautions d'emploi de l'arnica
Ne jamais utiliser des solutions d'arnica sur des plaies ouvertes ou ulcérées et, bien sûr, ne jamais avaler des solutions ou des extraits d'arnica. En cas d'ingestion, la présence d'arnicine, d'une grande toxicité, peut provoquer un empoisonnement, pouvant mener au jusqu'au coma et même au décès.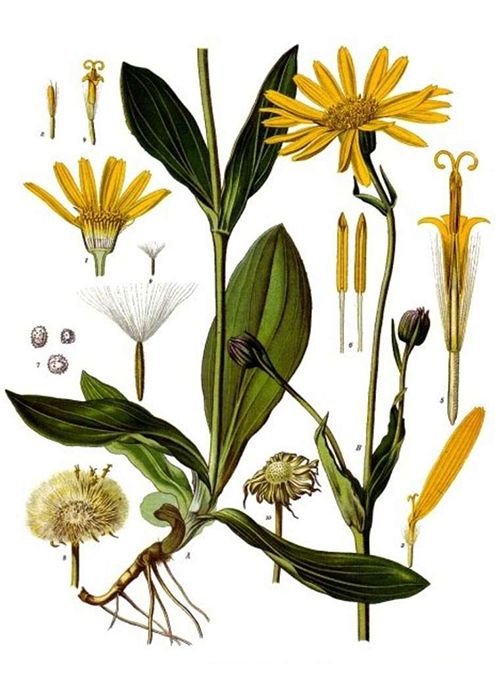 Arnica – the plant
Arnica montana is an alpine plant, grow­ing in nutrient-poor soil. It can poten­tially reach a height of up to 60cm, but this is unusual given the harsh conditions at high altitudes. It grows in meadows up to 3,000 metres above sea level, where it is exposed to strong sunlight. The higher the altitude, the more aro­matic the plant will become.
It is found throughout Europe, but nowadays it is more common to see hybrids of Arnica rather than the pure species growing wild. The natural habitat has been encroached upon by agricul­ture. Arnica cannot grow in areas where fertiliser has been used and aerial fertil­isation has had a huge, negative impact on the wild population in the Voges mountains of France. Arnica grows best in moist, peaty siliceous soils and chalk is harmful even in small quantities.
Arnica is in great demand herbally and homeopathically, which has led to over-harvesting. The World Wildlife Fund (WWF) with other conservation agen­cies has drawn attention to this issue, and thankfully many countries have responded by introducing legislation to protect the species. A license is required to collect the plant in many European countries, but unfortunately this is almost impossible to police so the temptation to make money has taken precedence over the long-term maintenance of natural stock. Only Spain lacks prohibitive laws regarding arnica collection, yet 1,000 to 3,000 kg of wild arnica was imported into Germany from Romania in the period 1989 to 1999 according to figures obtained by WWF.
Responsible companies have attempt­ed to farm arnica to cater for the demand, but it is a tricky plant to cultivate so their results have been mixed. It loves the harshness of its natural habitat and this is very challenging to reproduce com­mercially. Its inborn need to survive has led to cross-breeding in the wild.
Herbal use
For centuries arnica montana has been used herbally for bruising and sprains.
Generations of Swiss mountain guides chewed arnica leaves to prevent fatigue induced by climbing. The dried leaves were used as a substitute for tobacco, hence its common name of mountain tobacco. The dried flowers promote sneezing, so it was also known as snuff plant. Fall kraut, fall herb and wound herb, other eponyms, demon­strate the age-old use for the effects of trauma. The flowers are used as a com­press for sprains and bruises. The bright yellow flowers glisten in the sunshine and can resemble the eyes of a wolf from a distance, hence the name Wolfesgelega, wolf's eye in German. Leopard's bane is a reference to its wild beauty and elegance, and independent spirit.
The root contains essential oils which are powerful anti–inflammatory agents. The ski resorts are well-versed in the benefits of arnica – massages and body wraps using arnica are readily available in many, and I was highly amused to see a Hotel Arnica in Madonna di Cam­piglio in the Italian Dolomites!
Herbally the plant has been used for traumatic injuries involving bruising, and as a cardiac tonic for weak and weary hearts. It is also used homeo­pathically to support the heart, and for weakness and weariness in the elderly.
Arnica is also used to stimulate the kidneys, but can be quite toxic in herbal solutions. The ingestion of large quanti­ties can cause irritation to the gut; a temp­orary stimulation is followed by a depres­sion of the circulation, respiration and temperature. Violent headaches ensue, the pupils dilate and then muscular par­alysis sets in. The whole nervous system is paralysed and death results. Arnica should be used judiciously on the skin as it can cause nasty irritating rashes.
one of the best-known homeopathic remedies for bruising has a deeper significance

Arnica montana is one of the best-known homeopathic remedies. It has been used for several trials to demonstrate the effect of homeopathic remedies on bruising and trauma. Indeed some plastic surgeons swear by it for reducing bruising after cosmetic surgery. Many people are "converted" to the homeopathic cause after seeing spec­tacular results with this humble herb. Arnica montana belongs to the Compo­sitae family, in other words it is a rela­tive of the common daisy. Several of this family of plants are used homeopathi­cally and herbally – Calendula, Chamo­milla, Echinacea, Millefolium (yarrow), Solidago (golden rod) and Taraxacum (dandelion). The star shaped flowers of this botanical family are familiar to us all as sunflowers and ornamental daisies. Other members of the Compositae family include food crops such as lettuce, chicory, globe artichoke and guayule – a source of hypoallergenic latex.
The plants are rich in inulin, a com­pound between sugar and starch that the plants store in their underground organs as a source of energy. It is used as a natural sweetener for diabetics. The Compositae contain selenium and arnica ash is rich in manganese. Both selenium and man­ganese are powerful anti-oxidants in the human body and in addition manganese is an essential element needed for healthy bones, wound-healing, and the meta­bolism of proteins, cholesterol and carbo­hydrates. It may well be that it is this rich source of manganese that facilitates healing, acting in combination with the other plant chemicals. Manganese levels affect the levels of iron, magnesium and calcium in the body. Manganese defic­iency is rarely seen (or recognised) except in individuals fed artificially through their veins. They develop abnormalities in the skeleton, impaired growth and skin rashes.